The International School of Trieste is the only international school in Italy to issue diplomas fully recognized by the Italian law (art. 10, comma 3, della Legge 29 gennaio 1986, n. 26), specifically designed for the school. Since the inauguration of the high school in 2006 our students have gone on to attend university both in Italy and abroad. Further information about our high school program can be found in our high school profile.
In addition to internal assessment through final exams, we offer our high school students the opportunity to prepare for College Board Advanced Placement (AP) exams. We are also an SAT test centre. Our students take the ACER international standardised tests from Grade 3 to Grade 10 and our Grade 11 students take the PSAT/NMQST for informative purposes.
A graduation requirement for our high school students is to complete a research thesis around a subject of their choosing. Our students have found that the process of completing this project has been invaluable in their university success.
IST is accredited by the Middle States Association of Schools and Colleges (MSA) and is a member in good standing of the following organizations: European Council of International Schools (ECIS), Council of International Schools (CIS), and the Mediterranean Association of International Schools (MAIS).
Application & Enrollment Documents

(268.14 KB)

(196.18 KB)
Enrollment form
To fill in after receiving the acceptance letter

(150.34 KB)
Transportation form
Upon enrollment
Applying to IST
IST accepts applications throughout the year following the conditions outlined on the Application and Enrollment Forms. Ideal candidates for the high school have a good grasp of the English language and are able to pass entry tests in English, Mathematics and Italian (when applicable). Applications for students should be submitted in person or via email to the Front Office and accompanied by the student's two most recent report cards.
Need assistance with your application?
Please contact our Front Office for all of your queries about the enrollment process.
Program of Study
The International School of Trieste offers a program of study informed by curricular programs in the United States and United Kingdom. Students in the Elementary are prepared to read and write proficiently in English while maintaining or developing their level of Italian. The Elementary and Middle School programs for Mathematics are based on the Singapore Math program. Students in the Middle and High School work toward an ambitious program of university preparation courses based around the six core classes: Mathematics, Science, English Literature, Italian Language and Literature, Social Studies and their choice from among the Modern Foreign Languages of French, German and Spanish. In addition the electives program offers Manderin Chinese, Art and Latin.
Discover now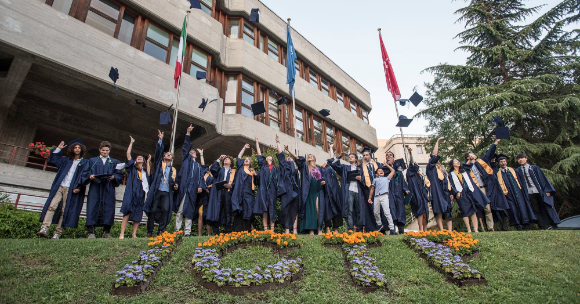 Activities
IST offers both after-school activities on campus as well as programs which benefit from our school's collaboration with a number of local entities, in particular Allianz Pallacanestro Trieste, Società Velica di Barcola e Grignano, Sci Cai XXX Ottobre, Tennis Club Triestino, Golf Club Trieste, the Teatro Verdi e the Rossetti-Teatro Stabile del Friuli Venezia Giulia.
Discover now